FDA Grants AMG 510 Fast Track Designation for KRAS G12C+ NSCLC
The FDA has granted a fast track designation to AMG 510 for the treatment of patients with previously treated metastatic non–small cell lung cancer (NSCLC) harboring a KRAS G12C mutation.1
The news of the fast track designation comes on top of an oral presentation of updated data from the ongoing phase I trial at the IASLC 2019 World Conference on Lung Cancer (WCLC). Updated data showed that AMG 510 induced a disease control rate of 100% at the target dose in evaluable patients with 
KRAS 
G12C–mutant NSCLC.
2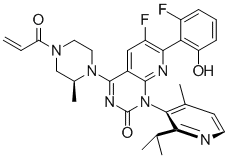 "There is a need for targeted treatments for specific driver mutations of cancer that do not have an approved therapy," Ramaswamy Govindan, MD, principal investigator and professor at the Washington University School of Medicine in St. Louis, said in a statement. "These data continue to show encouraging antitumor activity with AMG 510, underscoring the potential to close the treatment gap for patients with previously treated KRAS G12C–mutated NSCLC." Govindan presented the AMG 510 data during the WCLC meeting.
AMG 510 is a first-in-class investigational agent that selectively and irreversibly targets the KRAS G12C protein. The phase I dose-escalation/expansion study was conducted in patients with previously treated solid tumors who harbor a KRAS G12C mutation. The updated data presented at the WCLC meeting focused on additional follow-up among patients with NSCLC from the data originally presented at the 2019 ASCO Annual Meeting.
The findings covered 34 patients with NSCLC treated with AMG 510, including 19 who were treated in the dose-escalation phase with doses starting at 180 mg and 15 who were treated in the expansion phase at the determined phase II dose of 960 mg once daily.No dose-limiting toxicities were observed among the patients with NSCLC and although 4 patients discontinued treatment, none were due to adverse events. Twenty-seven patients remained on treatment at the time of data cutoff.Among 23 evaluable patients who had completed the first 6-week CT scan or had early progressive disease, the objective response rate was 48% and the disease control rate was 96%. Thirteen of these patients received the phase II dose of 960 mg, and of these patients, 7 (54%) achieved a partial response and 6 (46%) achieved stable disease."These new data reinforce the earlier positive response rate we shared at ASCO in more non-small cell lung cancer patients receiving AMG 510," David M. Reese, MD, executive vice president of research and development at Amgen, said in a statement. "We remain enthusiastic about the promise of AMG 510 and continue to rapidly advance its development program both as monotherapy and in combination."Treatment-related adverse events (TRAEs) of grade 1/2 were observed in 26.5% of patients and grade 3 events of anemia and diarrhea were observed in 8.8%. No grade ≥4 TRAEs were reported.Further findings from the phase I study will also be presented at the 2019 ESMO Congress. Mon September 9, 2019https://www.targetedonc.com/
---
 References:
Amgen announces new clinical data evaluating novel investigational KRASG12C inhibitor in larger patient group at WCLC 2019 [news release]. Thousand Oaks, CA: Amgen; September 8, 2019. https://bit.ly/2kqnxi4. Accessed September 9, 2019.
Govindan R, Fakih M, Price T, et al. Phase 1 study of safety, tolerability, PK and efficacy of AMG 510, a novel KRASG12C inhibitor, evaluated in NSCLC. Presented at: IASLC 20th World Conference on Lung Cancer; September 7-10, 2019; Barcelona, Spain. Abstract OA02.02.